4 Emerging Trends Impacting Population Health Today
JULY 6, 2021
Over the past 10 years, many employers have evolved from promoting "wellness-related" activities, like counting steps and weight loss challenges, to true population health management (PHM), using incentives to maximize employee engagement in preventive care. COVID-19 dramatically altered the progress many organizations had made with preventive care, and spurred the need to refocus on basic healthcare concerns such as going to the doctor and engaging in health screenings.

Today, we see four major trends impacting population health management as a result of COVID-19 and the need for employers to manage healthcare spend.
Trend 1: Decline of In-Person Preventive Care
Based on USI Insurance Services' analysis of claims data, it is evident that all forms of healthcare services were down in 2020, including preventive care utilization as a result of the COVID-19 pandemic. In 2021, cancer claims continue to be the largest driver of catastrophic claims for employers. Studies have shown that early detection of cancer leads to decreased costs and improved survival rates among cancer patients. Unfortunately, the COVID-19 pandemic led to significant drops in visits with primary care physicians (PCPs), as well as a decline in compliance with age- and gender- specific screenings, as demonstrated in the graphs below.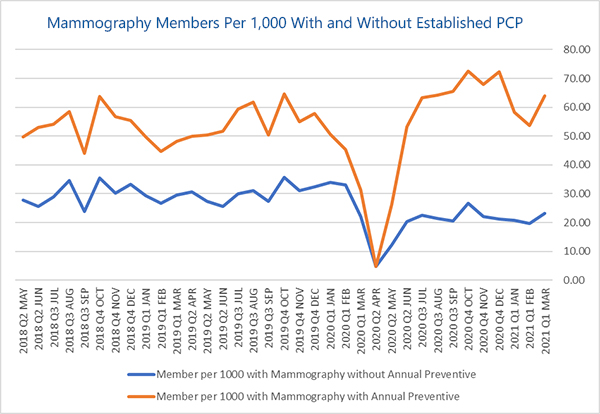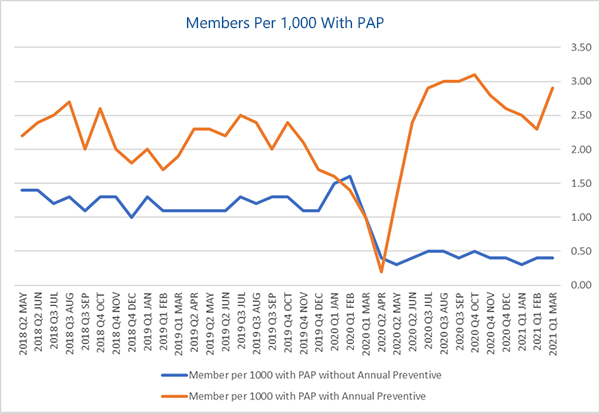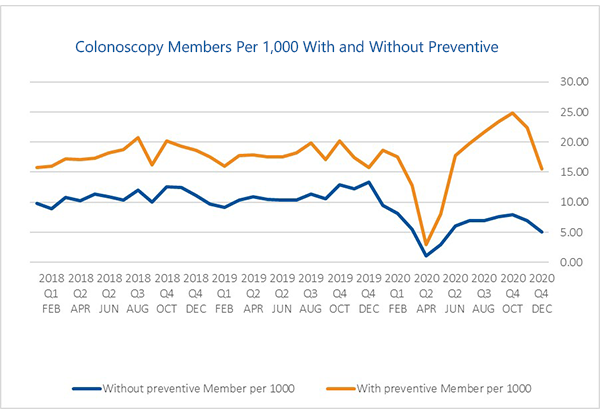 Deferred care for episodic and chronic conditions could increase annual U.S. healthcare costs by as much as $65 billion, a McKinsey & Company report found. Additionally, the National Cancer Institute predicts there will be 10,000 more breast and colorectal cancer deaths over the next decade because of delays in care related to COVID-19.

To reverse the impact of this trend, it is imperative to get people re-engaged with completing age- and gender-specific screenings. Employers must continually promote the importance of these, as well as encourage members to schedule an annual PCP visit. USI recommends connecting all adult members with a PCP through meaningful incentives.
Trend 2: Virtual Care Is Here to Stay
Most healthcare organizations had invested in the development of virtual care prior to 2020, but utilization was limited. Many plan members embraced virtual care during the COVID-19 pandemic to avoid exposure to COVID-19, and telehealth offered a suitable alternative for some conditions such as behavioral health or condition management.

While virtual care utilization may drop from peak levels seen in 2020, it will not return to the low usage levels seen pre-pandemic. Virtual care is not intended to fully replace preventive care, but is a suitable alternative to remove barriers to programs for chronic conditions, behavioral health, musculoskeletal health, and weight management.
Trend 3: Greater Emphasis on Behavioral Health
Behavioral health has always been a key issue, but the COVID-19 pandemic and significant cultural shifts in 2020 dramatically increased the need for all types of behavioral health resources. Behavioral health is not one-size-fits-all. Not everyone needs therapy, coaching, and/or medication to improve their well-being, and treatment options available today address the whole-person approach versus just treating the condition. It is important that employers work to break down barriers to entry and eliminate the stigma of behavioral health issues.

Additionally, the link between physical and behavioral health in managing chronic conditions has become clearer in recent years. The American Diabetes Association reports that individuals with diabetes cost 2.3 times more than individuals without diabetes. An individual with both diabetes and depression costs $20,000 more than an individual with diabetes alone. Much like the focus on early detection and treatment of cancer, many employers are now focused on early intervention of behavioral health concerns by offering a spectrum of resources. These options include virtual, telehealth and in-person, and appeal to a broad spectrum of the workforce.
Trend 4: Family Forming Support
Family forming resources can provide assistance to all employees who seek support in their parenting journeys. Many human resources executives are searching for benefits that support diversity, equity, and inclusion (DEI) initiatives. For many employers, family forming benefits are a hallmark of their DEI initiatives.

The broad landscape of family forming benefits can include pre-conception counseling, infertility treatments, surrogacy, adoption, healthy pregnancy support, birth and postpartum support, breastfeeding education and support, parenting resources, return-to-work strategies, and more. Before hiring a family forming vendor, employers should first clearly identify what resources are currently available to them from their carrier programs. Once these options are clearly defined, employers can work with USI's PHM team to select appropriate vendor(s).
How USI Can Help
It is expected that these trends will continue well into 2022. Employers should review their existing benefits programs and employee population to gauge the impact any of these trends may have on their company.

USI is available to help employers analyze the impact of these trends on health plans. We continually evaluate vendors within these spaces and can help employers navigate the complex marketplace to identify and implement solutions and services that address the needs of plan participants.
Sources:
2021 SunLife Stop-Loss & Health Research Report: High-cost claims and injectable drug trends analysis
How to future-proof your well-being strategy: Six key insights from the Rally Health Prevention Survey. https://www.optum.com/business/resources/library/rally-prevention-survey.html
Holt, R. I. G., de Groot, M., & Golden, S. H. (2014, June). Diabetes and depression. Current diabetes reports. https://www.ncbi.nlm.nih.gov/pmc/articles/PMC4476048/.

SUBSCRIBE
Get USI insights delivered to your inbox monthly.

Sign Up for Executive Series