Coming of Age: Essential Tips for Parents With College-Bound Teens
AUGUST 3, 2021
Before teens fly the coop and during their time away, families of college-bound teens need to consider important decisions regarding personal safety, health, liability and financial risks.

Moving from home to college is a rite of passage that requires teenagers to assume more responsibility for their actions and for parents to respect their child's budding independence. Taking time to review these important topics can reduce the financial impact of and emotional toll associated with many of the challenging experiences teenagers encounter during their college years. Below, in the first of a two-part series on Teens Coming of Age, USI Insurance Services' personal risk experts share essential steps parents can take before their child leaves for college, including:
Preparing for various on- and off-campus liability risks
Securing personal property such as cars and valuable assets
Improving access to healthcare and protecting against health risks
Liability in a Hyper Risk Environment
Consider the widely publicized tragedy of Timothy Piazza's death in February 2017. The incident occurred while Timothy was pledging an on-campus fraternity at Penn State. After falling down the basement steps while undergoing hazing activities, which included binge drinking as well as physical and emotional bullying , Timothy was left alone. By the time fraternity brothers called for medical help, Timothy's condition could not be reversed and he passed away.

His parents brought suit against the university, the fraternity, and 42 students who were present for the pledging activity. By March of 2021, 25 of the 42 defendants had a reached a settlement with the Piazza family for the civil suit alleging negligence, breach of duty of care, intentional inflictions of emotional distress, battery and conspiracy relating to Timothy's death.

Given the freedoms students enjoy on campus, it is important for parents to emphasize safety to their children. Particularly, parents should advise students on ways to avoid being in precarious situations, what to do in an emergency, how to contact security and other safety rules. Risk experts can provide guidance in these areas.

According to RAINN (Rape, Abuse & Incest National Network), more than half of sexual assaults in college campuses occur from August through November. Incoming freshman should be educated to the perils of newfound freedom, alcohol and drug use, the potentially devastating impact of sexual violence and how to report sexual abuse and seek help for oneself or others when needed.

Parents with college-bound teens should seriously consider increasing their liability limits to mitigate vicarious liability exposure. With help from a risk advisor, parents can secure broad coverages and high liability limits.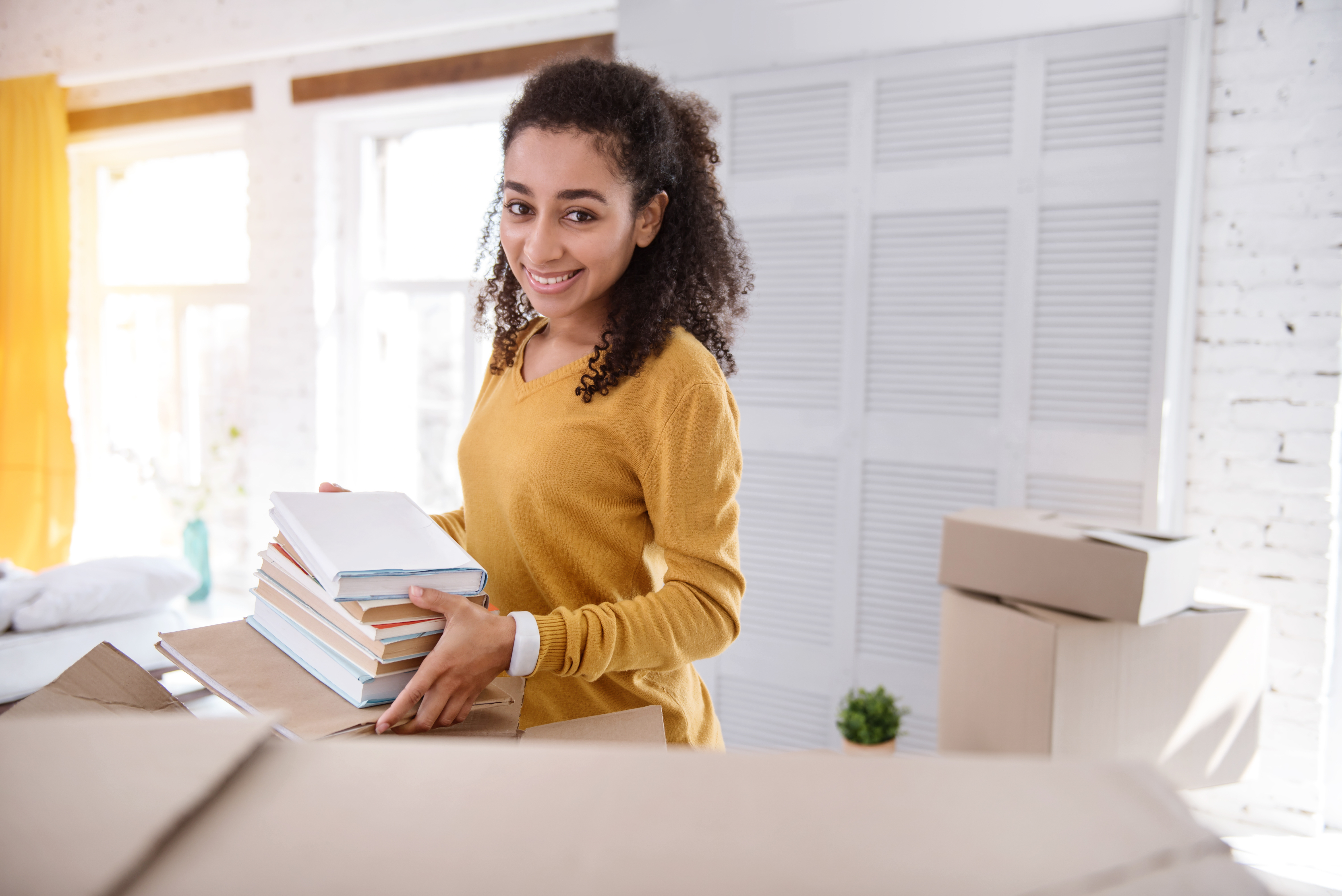 On- and Off-Campus Property Risks
Theft and property damage are unfortunately common on college campuses. According to the Insurance Information Institute, burglaries constitute approximately 50% of all on-campus crimes. Oftentimes these incidents occur because students do not appropriately protect their personal properties, leaving them unattended or unlocked.

Before teens head off to college, it is recommended that parents take an inventory of all items, listed by cost, in case there is a need to file an insurance claim. One of the biggest challenges clients face with a theft claim is recreating what items have gone missing. An inventory of personal belongings taken to school helps to alleviate this obstacle.

For students living on campus, parents can secure insurance coverage through their homeowners or renters insurance policies for damage to or loss of personal items resulting from theft, fire, water damage or vandalism. Some valuable items can be insured as part of an endorsement to the policy or by a personal property floater, which covers property regardless of location. Also, some specialty insurers offer college students stand-alone property policies, with low deductibles, to cover expensive items like laptops and flat-screen televisions.

Students who are planning to stay in off-campus apartments may need to secure their own renter's insurance. It is important to speak to a risk advisor about options. Parents who cosign leases can be held liable for injuries sustained by visitors to the apartment. As such, it is critical to add the off-campus apartment to the parent's primary home and personal excess liability policies.

Vehicles can also be insured through the parent's auto insurance policy. Depending on the location of the school and driving history, the college teen's auto insurance premiums may be readjusted. Parents should advise their insurer if the state in which the vehicle is located changes.

It is important to note the following:
Generally, teen drivers are considered a higher risk and pay more in premiums than experienced drivers. Students away at school are still considered residents of your home.
Lawsuits arising from operating borrowed or temporary vehicles are typically covered by the personal automobile policy of the parents.
Children away at a college should not be removed from the parent's automobile policy. If the school is more than 100 miles away from home, the auto coverage earns a credit for the reduced use by the teen driver.
Managing Health and Privacy Concerns
Before a teenager leaves home, parents are advised to discuss health matters and what to do in the event of a medical emergency. As a parent, it may be useful to have a power of attorney (POA) that directs medical providers to grant access to the child's medical records and allow medical decisions to be made on their behalf. In the absence of a POA, most healthcare providers will not share medical records with parents if the teen is over the age of 18. A Health Insurance Portability and Accountability Act (HIPAA) release also allows medical providers to share medical information with designated individuals or a proxy.

"We have seen situations where parents were unable to access medical information for a child away at school," says Attorney Michael Maransky, partner at the law firm of Fox Rothschild. "In many cases, the problem is easily resolved by the child providing the authorization at the time it is needed. However, if the medical problem is so severe that the child is physically unable to provide this consent, an emergency court proceeding appointing the parent as the child's guardian may be the only solution."

Parents should also talk openly about prescription drug use and its dangerous effects, as well as provide guidance on the use of over-the-counter medications to treat headaches, fevers and allergies. They should also emphasize the dangers of using street drugs as well as marijuana and other non-prescription herbal remedies. Be sure to also explain that certain lifestyle choices can have serious health effects, such as bacterial and viral infections associated with piercings and tattoos.

With COVID-19, students face additional physical and mental health concerns. Many may experience remote or hybrid classes, more challenging social situations, and feelings of isolation or confusion as they navigate campus life amid an evolving pandemic. Parents can help students stay resilient by encouraging them to take care of themselves, to take advantage of on-campus COVID resources and to seek professional help when needed.

College is all about learning and experience. For many teens, it is their first adult experience outside of the home. Parents can make this experience safer and more enjoyable for their teens by taking many different precautions and providing proper advice.
For help with individual recommendations and customized insurance solutions as you prepare for your child's transition to college, contact your local USI personal risk advisor.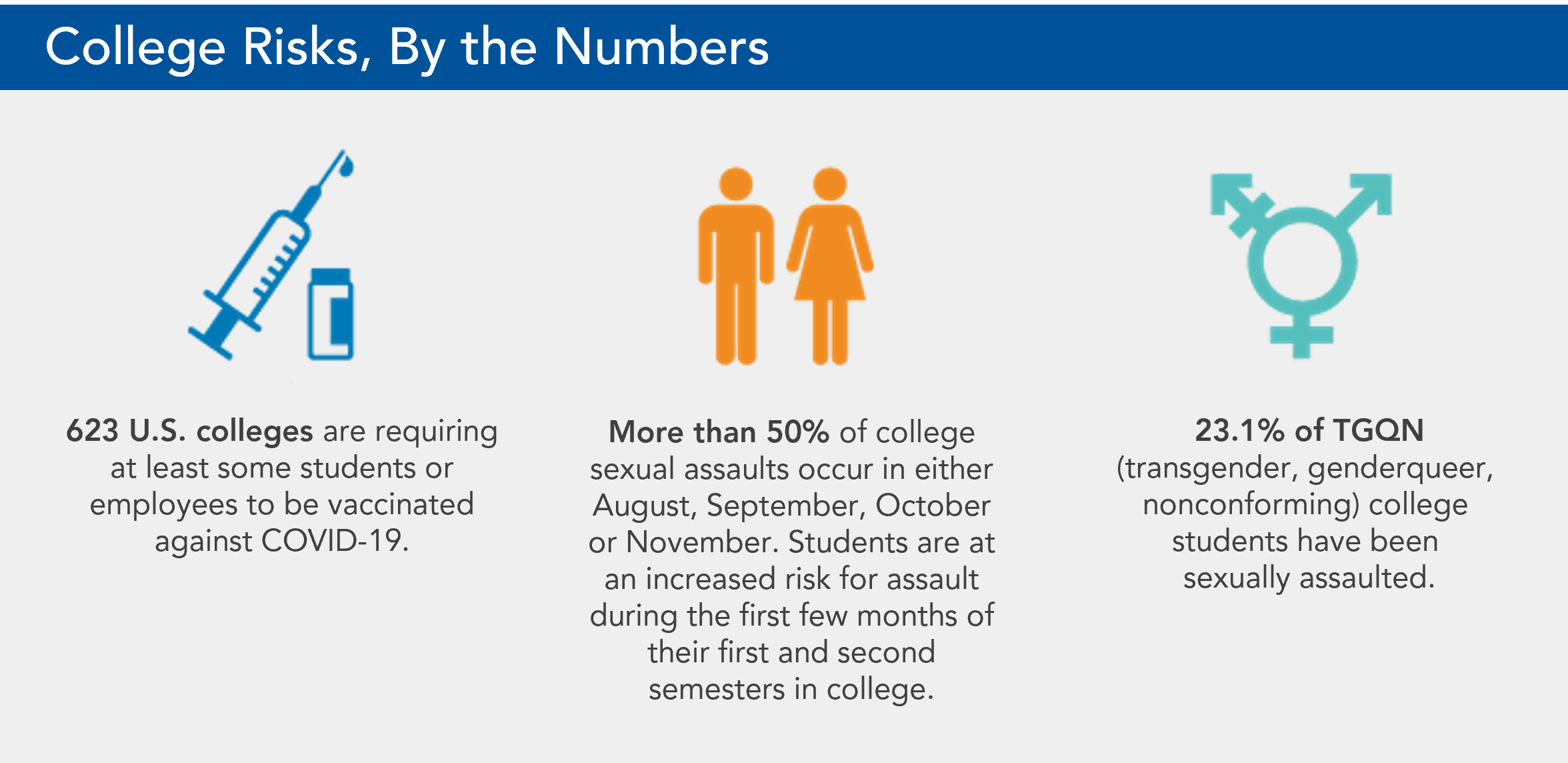 Sources:
Data as of July 30, 2021
https://www.chronicle.com/blogs/live-coronavirus-updates/heres-a-list-of-colleges-that-will-require-students-to-be-vaccinated-against-covid-19?bc_nonce=30c70knwl4jd78dwn89n1e&cid=reg_wall_signup
https://www.rainn.org/statistics/campus-sexual-violence
SUBSCRIBE
Get USI insights delivered to your inbox monthly.

Sign Up for Executive Series