Protect Your Teens as They Leave for College
AUGUST 2, 2022
As teens go to college, parents and guardians must make decisions regarding safety, health, liability, and financial risks. Take time to review important topics to reduce stress associated with your teenager's experience at school.
Following are essential steps you should consider taking before your child leaves for college, compiled by USI Insurance Services' personal risk experts. Additionally, view our easy-to-use checklist.
Health Management and Drug Use
Together with your child, create a plan for health matters and medical emergencies. USI recommends parents and guardians obtain a power of attorney, which enables healthcare providers to share your child's medical records with you if your teen is over 18 years old. A Health Insurance Portability and Accountability Act, or HIPAA, release also allows providers to share medical information with designated individuals.
Openly discuss prescription and street drug use and its dangerous effects with your teen. Emphasize the dangers of using alcohol, drugs and other nonprescription herbal remedies. Explain certain lifestyle choices may have serious health effects, such as bacterial and viral infections associated with piercings and tattoos.
Common drugs abused on college campuses include:
Alcohol
Adderall, Ritalin, amphetamines and other study drugs
Cocaine
Marijuana
OTC medications
Heroin
Prescription medications
Opioids
Ecstasy, MDMA, LSD and other hallucinogenic drugs
Safety Concerns
Together, create a plan for how students can avoid precarious situations, what to do in an emergency, how to contact security and other safety rules. Teens should be aware that sexual assaults are more prevalent on college campuses. According to the Rape, Abuse & Incest National Network (RAINN), more than half of sexual assaults in college campuses occur from August through November. Eight out of 10 sexual assaults are committed by someone the victim knows. Incoming freshman should be educated on how to report sexual abuse and how to seek help when needed. See the RAINN website for information on staying safe on campus.
Property and Liability Risks
Theft and property damage are common on college campuses. Students frequently leave personal items unattended or unlocked. Take an inventory of all valuables taken to school, listed by cost, in the event of an insurance claim.
Consider the following statistics: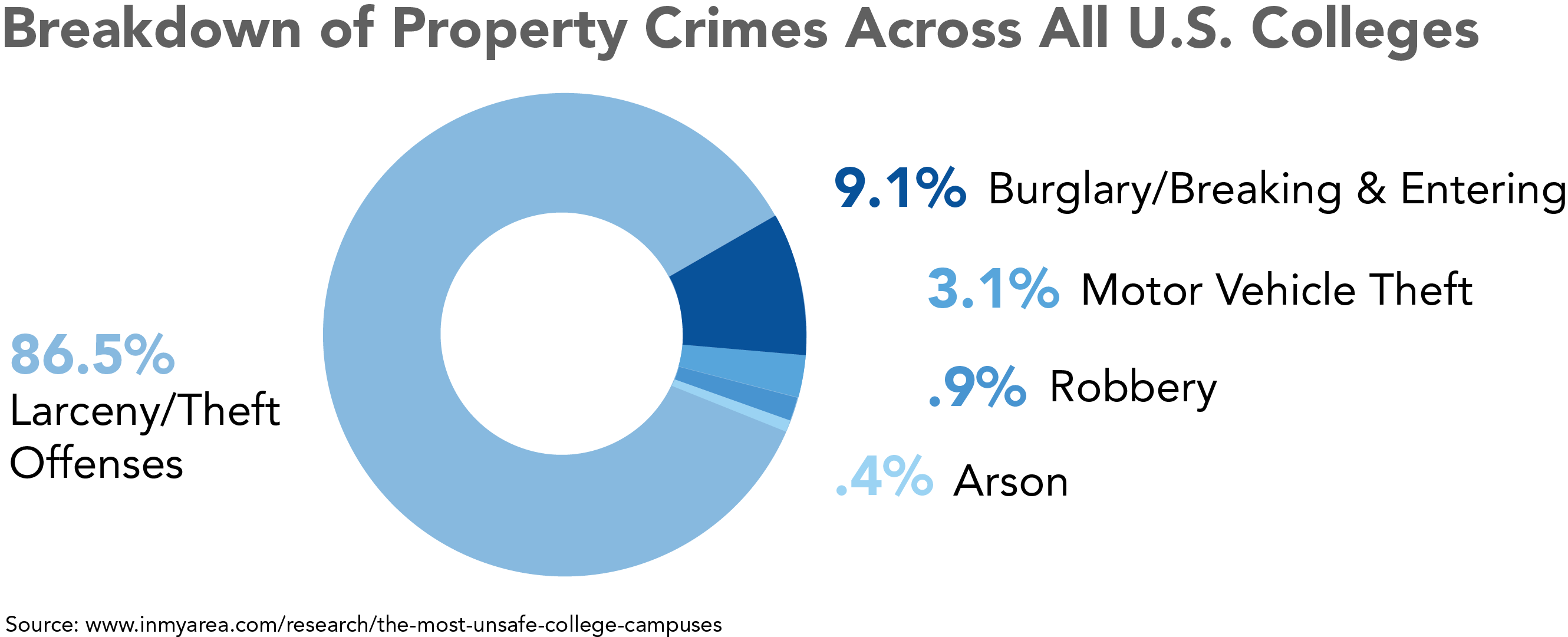 For students living on campus, valuable items may be insured on the parent's or guardian's homeowners policy by endorsement or a personal property floater, which covers property regardless of location. Students planning to stay off campus may need to secure their own renter's insurance to cover damage to or loss resulting from theft, fire, water damage or vandalism. Be advised, if you cosign a lease for your child, you may be held liable for injuries or physical damage to the apartment. Consider increasing liability limits to mitigate vicarious liability exposures.
Cyber Risks
New students with limited credit history are easy prey for common hacking techniques. Discuss internet safety practices with your teen. Educate them about the potential dangers of hackers and how to protect their private information. Implement the following best practices:
Limit use of public Wi-Fi
Never share passwords
Do not access bank accounts or financial sites on shared computers
Install antivirus protection on all computers and mobile devices
Use strong passwords (minimum of 12 characters) and two-factor authentication when available
Also discuss cyber etiquette. Inappropriate comments, explicit photos and explicit material may have a significant impact on the family's reputation and finances. Risks may include legal responsibility for libel, slander, and difficulty obtaining gainful employment.
Financial Risks
Education on financial concepts can lessen stress and instill healthy financial habits. Teens should be taught credit-building practices, such as paying bills on time, staying below the credit card limit, and periodically checking credit reports.
Parents and guardians may also help their teens build a credit history by adding them as a joint credit cardholder or authorized user. You can limit the amount of money a teen spends each week or month and set other stipulations such as preapproving cash advances.
Auto
You may want to consider keeping a teen's vehicle at home rather than sending it to school with the student. Many colleges offer transportation options to and from campus. Keeping the vehicle at home affords a credit on the automobile policy (if the school is more than 100 miles away), which saves premium and reduces liability exposure.
If the teen takes the vehicle to school, establish rules before departure. First and foremost, no one is permitted to drive the vehicle except your child. If your child permits another person to drive the vehicle and an accident happens, the owner of the vehicle has the liability exposure, not the driver. Consider increasing liability coverage on the auto policy and umbrella policy to offset this risk.
Lack of sleep is common among students who stay up late to study or engage in social events. According to the American Academy of Sleep Medicine, drivers 16 to 24 years old are 80% more likely to be involved in a drowsy driving accident. Further, teens contribute disproportionately to traffic fatalities, according to the American Academy of Pediatrics.
Parents and guardians should also stress to young drivers the dangers of texting or taking their eyes off the road to glance at phones. Teenagers are more likely to read, send texts, eat, and listen to loud music while driving. Although phone use while driving should be discouraged entirely, you can help by investing in Bluetooth technology to facilitate hands-free calling.
How USI Can Help
Teens branching out into the world is stressful. Maintaining regular contact and open communication with your teen is key to the safe, successful completion of their higher education. Trust your instinct. If you feel something is wrong, you might be correct.
USI is here to assist in planning a risk management strategy to make the transition to college as safe as possible for your family. Contact us at personalriskservice@usi.com.
Sources:
Addiction Center — Facts and Statistics of College Drug Use
Timely MD — Statistics and Signs of Substance Abuse in College Students, Alan Dennington, M.D., April 2, 2020
Ride sharing reduced U.S. drunk driving deaths by 6% , Michelle Cheng, July 27,2021
SUBSCRIBE
Get USI insights delivered to your inbox monthly.

Sign Up for Executive Series